This slideshow requires JavaScript.
This program is probably the one I had been looking forward to the most all summer. We had a 6 week series of regular Baby & Me and the seventh week we had Baby Play Day!
This program was mostly inspired by Brooke Newberry at Reading With Red and her fun Play, Baby, Play program. She also gave a fabulous webinar co-hosted with Kendra Jones at on Successful Programming for Babies and Toddlers.
My second biggest planning resource was the awesome and essential book 150+ Screen-Free Activities for Kids by Asia Citro. This book has tons of recipes for play, everything from finger-paints to play-doughs to slimes. She labels which are taste-safe for babies which has been a huge help. I have made probably 5 recipes from this book (or the author's website) without a single fail.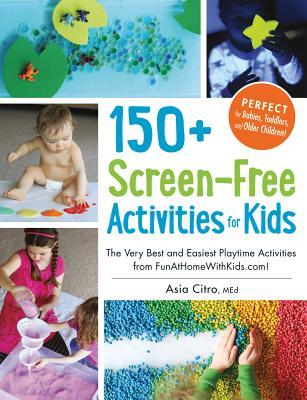 So for Baby Play Day I put out about 10 activities and we had unstructured playtime for an hour. These are the things we had:
Cloud Dough (similar to what some people call Moon Sand): Part flour, part sand, and some vegetable oil.
Colored Rice: Dyed with food coloring and vinegar.
Ball Pit: 200 balls purchased on Amazon and a kiddie pool. I blogged about our first time using this here.
Crinkly Paper: Bright orange and green packing paper from a box from Mango Languages.
Tunnel: Brought from home, my daughter's first birthday present.
Texture Boards: Pieces of cardboard with bits of various textures hot-glued on.
Kleenex Box Scarves: Pulling colorful scarves out of tissue boxes.
Pom-Pom Chutes: Tubes taped to the wall to put pom-poms through.
Boxes: These were empty soda can boxes left over from when I did Giant Jenga with the teens a couple weeks ago. The babies loved stacking them and pushing them over. The boxes were nearly as big as them!
Dance Corner: Rainbow ribbons, shakey dggs, and bells. And music!
Books: I put out books from our Parenting section on play activities for babies and toddlers as well as a selection of Board Books.
Oh, and there were also bubbles, of course!
Even with all that, I worried that there wouldn't be enough to do, or that parents would be expecting more structure or direction. I didn't need to worry! They got right down to play and had a grand time. At the 30 minute mark, I did turn up the music and invite people to come on over and dance with me, but only a few took me up on it. Everyone was so engrossed in all the other activities. It was a really great time for all (even though I was completely exhausted the rest of the day from all the set up, clean up, and playing!). And I am already planning to do another one in November.